[Image description: A woman speaks to a doctor from home using her laptop.]
It can sometimes feel difficult to explain your symptoms — especially when you're not feeling well. But describing your symptoms to your doctor is key to getting the right diagnosis and care. A lot of common conditions share similar symptoms. A runny or stuffy nose, for example, could be a sign of a cold, flu, COVID-19, or a sinus infection.
When you're meeting with a doctor online over video or the phone, you may need to describe your symptoms a little more than you would at an in-person visit. Try these tips to communicate your symptoms clearly.


Start with the basics
Explain what you're experiencing right at that moment. Be clear, to-the-point, and detailed. Instead of saying "it's hard to breathe," for example, say something like, "my nose is so stuffy I can't breathe out of it."
Once you've described your basic symptoms, give your doctor some more details, such as:
When your symptoms started
The time of day they usually occur
How often they happen and how long they last
If they seem to be getting worse or better
What treatments you've tried and if they've worked
If your symptoms have kept you from your usual activities
For a runny nose, you could say something like: "I have a runny nose. It's been running constantly for 3 days. I blow my nose all the time. It seems to be worse in the morning. I took some cold medicine, but it didn't help."
Or, if you've been feeling short of breath, you might say something like: "I feel like I can never get enough air. I am winded after just walking up a flight of stairs, which is unusual for me. I haven't been able to exercise because of my trouble breathing."
Your doctor may also ask questions to better understand your symptoms.


Be specific
Whenever you can, use specific numbers or data. For example, instead of saying, "I've been sleeping a lot," you can tell your doctor that you've been sleeping for 12 hours a night instead of your usual 8 hours. If you have a fever, tell your doctor your exact temperature. You may be able to do this by syncing your temperature and other health data with the Amwell app. Whether it's a device or a smartwatch linked to the health data in your phone — this may help your doctor get a clear picture of what's been going on and have something to reference during the visit.


Describing pain and severity
Try characterizing your symptoms as "mild," "moderate," or "severe." Sometimes health conditions will have the same symptoms, but they'll differ in severity. For example, the flu and the common cold share symptoms like fatigue, cough, and sore throat. But with the flu, these symptoms tend to be more intense. Pain can be a difficult symptom to put into words. If something hurts, though, your doctor will want to know. Try rating your pain on a scale of 0 to 10 with 0 being no pain and 10 being the worst pain you've ever experienced.


Learn the difference between similar ailments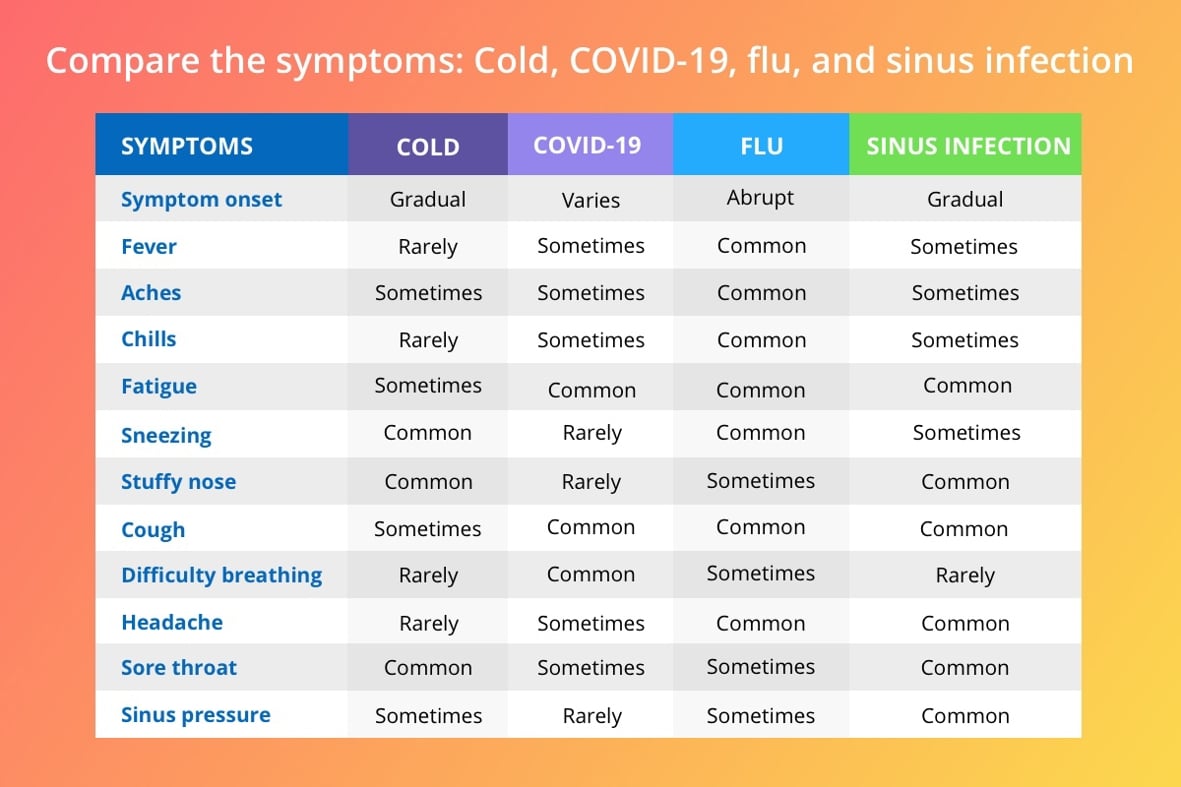 [Image description: There is a comparison chart of cold, COVID-19, flu, and sinus infection symptoms on a pale orange and yellow gradient background.]
The cold, flu, COVID-19, and sinus infections all share similar symptoms, with some important differences. Here are the most common symptoms for each condition, according to the Centers for Disease Control and Prevention:
Cold symptoms
Fatigue (feeling tired)
Runny or stuffy nose
Slight muscle or body aches
Sneezing
Sore throat
COVID-19 symptoms
Cough, shortness of breath, or difficulty breathing
Diarrhea
Fatigue
Fever or chills
Headache
Muscle or body aches
Nausea or vomiting
Runny or stuffy nose
Sore throat
Flu symptoms
Cough
Fatigue
Fever or chills
Headache
Sore throat
Muscle or body aches
Runny or stuffy nose
Sinus infection symptoms
Sore throat
Cough
Facial pain or pressure
Headache
Mucus dripping down the throat
Runny or stuffy nose

Have a visit
If you're not feeling well, doctors on Amwell are here to help you 24/7. The doctor may ask questions to clarify your symptoms before providing next steps for care. Whether or not you know exactly how to describe your symptoms, speaking with a doctor online will likely be beneficial.