Diabetes treatment online
Manage your diabetes with online advice, medicine refills* and electronically filled prescriptions from board-certified Amwell providers, 24/7, using your phone, laptop, or computer.
Diabetes symptoms can vary, but patients typically experience:
Increased thirst
Frequent urination
Hunger
Fatigue
Blurred vision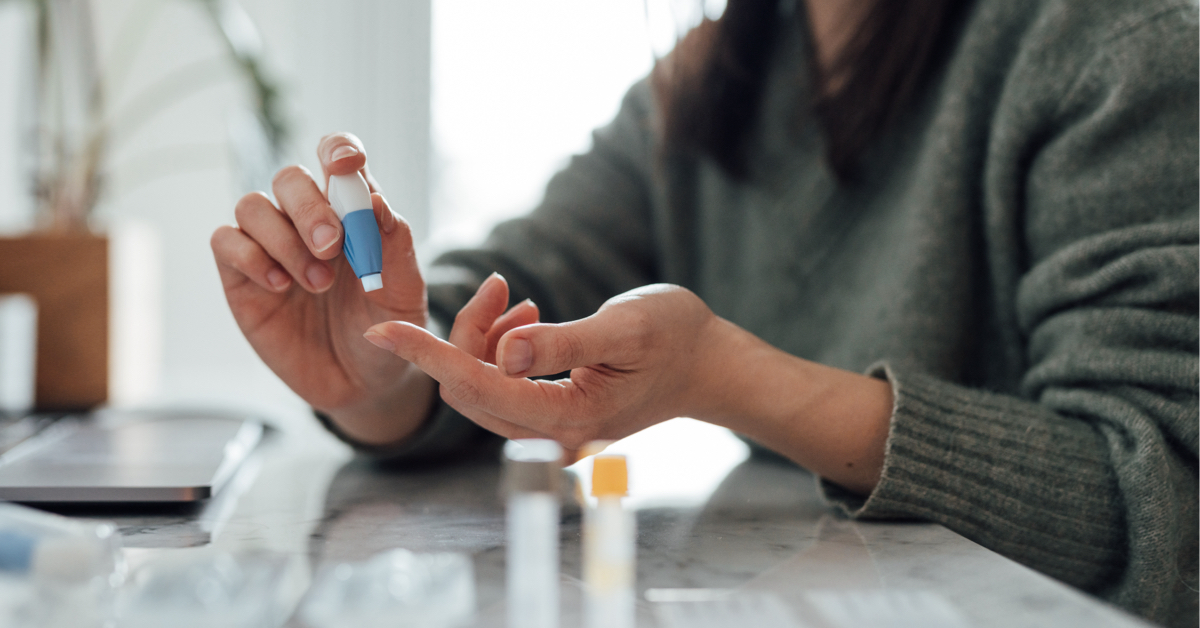 Managing diabetes online
If your primary care provider (PCP) or specialist diagnosed you with diabetes, you can also use telehealth services to take good care of yourself.
We call this hybrid care. With hybrid care, you maintain a relationship with the provider you see in person, and you also use online services periodically. These telehealth services will help you monitor your diabetes with check-ins, medication refills, advice, and care for other health issues that may arise, such as the common cold.
Telehealth — An effective, extra tool to help manage your diabetes
Many studies prove that telehealth is an effective additional tool to help you manage your diabetes and other related health issues. A study conducted by the Healthcare Information and Systems Society found that after a series of telehealth visits, participants had lower hemoglobin A1C levels. Hemoglobin A1C levels show how well you manage your blood sugars and diabetes.
In addition to lower A1C levels, many studies found that telehealth visits also led to decreases in blood pressure, low-density lipoprotein cholesterol (also called "bad" cholesterol), and body mass index, all positive outcomes when managing diabetes.
First step — See your provider for a diabetes diagnosis
Amwell can partner with you and your provider to manage your diabetes effectively. First, you'll need to see your provider in person to confirm you have diabetes.
Your provider needs to see you in person and use specialized equipment to diagnose diabetes.
(NOTE: Each Amwell provider treats their patients and prescribes medications at their own discretion. Some providers may prefer for you to see your primary care provider for ongoing care management or encourage you to go to an urgent care clinic for an in-person evaluation.)
What to expect during your telehealth visit
During your telehealth visit, your Amwell provider may:
Review your glucose test results (which you will track in between visits)
Discuss what might cause spikes or dips in the results
Review your current diabetes medications
Your Amwell provider may also talk with you about ways to manage your diabetes more effectively and improve your overall health. These recommendations may include lifestyle tips, such as nutritious foods, regular exercise, and an improved sleep schedule.
If you need medication changes
Your Amwell provider can advise you about any medication changes you may need. Online prescriptions for diabetes are available to patients nationwide; they are not controlled substances. We offer telehealth services in all 50 states so that you can pick up your prescription anywhere in the country. However, some restrictions apply. For example, in certain states, you may need a video visit (rather than phone-only) to receive a new prescription. And other states only permit refills of existing prescriptions online. Your Amwell provider can clarify your state regulations.
Have questions about telehealth visits? We'll help.
You'll find answers to many of your questions about how it works and services we offer online. Or, please reach out to our support team at We have highly trained health service specialists standing by to take your call, 24/7.
*Medication refills are at the discretion of the Amwell provider. Not all medications may be refilled.

Online Urgent Care
Amwell connects you to board-certified online doctors, 24/7, using your phone, tablet, or computer.
Continue