Hot flashes & night sweats
Get relief from hot flashes with an online diagnosis, treatment plan, and electronically filled prescriptions from board-certified physicians 24/7.
Hot flash symptoms can vary, but patients typically experience:
A sudden feeling of warmth spreading through your upper body and face
A flushed appearance with red, blotchy skin
Rapid heartbeat
Perspiration, mostly on your upper body
A chilled feeling as the hot flash lets up
And more.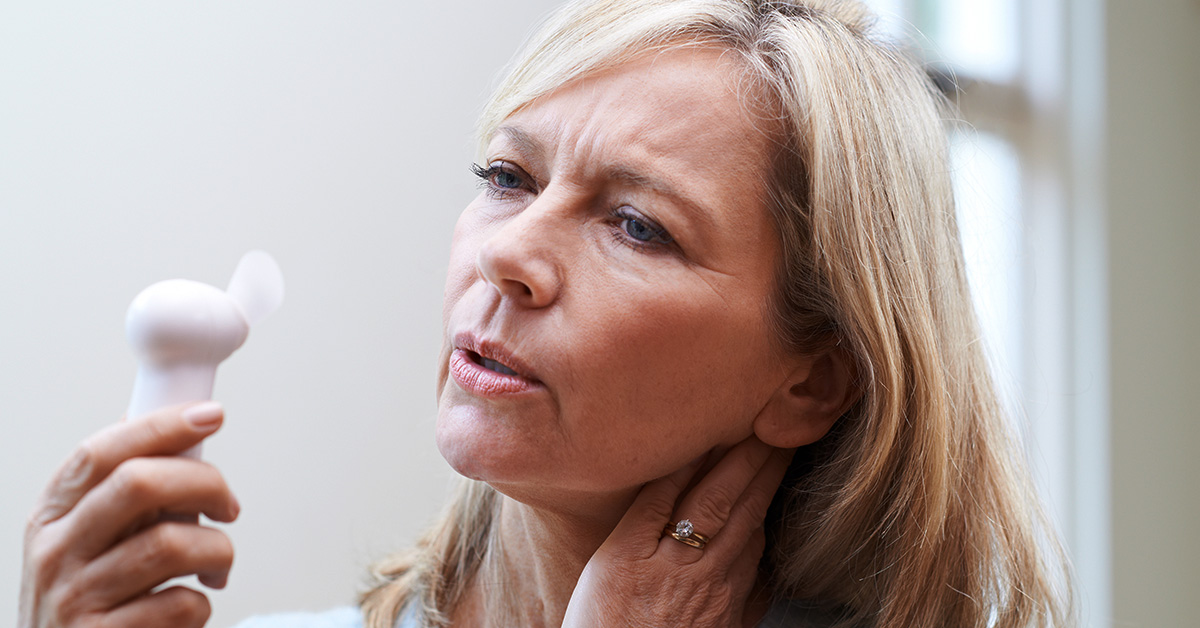 Diagnosing and Treating Hot Flashes Online
Hot flashes are the most common vasomotor symptom associated with menopause, although other medical conditions may also cause them. Characterized by sudden feelings of warmth, which are usually most intense over the face, neck, and chest, hot flashes may cause your skin to turn red as if you're blushing. Hot flashes can also cause sweating and if you lose too much body heat, you might feel chilled afterward. Also, nighttime hot flashes, known as Night Sweats, can wake you from sleep and, over time, cause chronic insomnia. Hot flashes occur sporadically. The number of hot flashes a woman experiences varies and can range from a few a week to several an hour.
While the cause of hot flashes is not known, and there is no way to avoid them during menopause, there are some common triggers that make them more frequent, including:
Stress
Caffeine
Alcohol
Spicy foods
Tight clothing
Heat
Cigarette smoke
Avoid these triggers by dressing in layers, enjoying a cold glass of water, or traveling somewhere cooler to combat hot flashes.
During a video consult on Amwell, one of our board-certified doctors will ask you a series of targeted questions to determine the severity of your hot flashes. Your diagnosis will be based on the duration and severity of symptoms, as well as your medical history.
Once you've discussed your symptoms, your doctor will go over the risks and benefits of the various treatment plans. Treatment for hot flashes varies patient-to-patient depending on the severity and cause of the pain, but a consistent treatment routine can help minimize or eliminate the problem. This routine may include:
Nonprescription treatments:

Vitamin B complex
Vitamin E
Ibuprofen

Prescription treatments include:

Hormone Replacement Therapy
Low-dose depression drugs like fluoxetine, paroxetine, or venlafaxine
Bloodpressure medication
Anti-seizure medications
Formulas specifically designed to treat hot flashes

Women's Health
Online visits with women's health clinicians from your desktop or smartphone.
Continue