Hypertension advice and refills online
Start managing hypertension with online advice, medicine refills, and electronically filled prescriptions from board-certified Amwell telehealth providers 24/7.
Usually, hypertension does not have warning signs or symptoms, but these factors are related:
Facial flushing
Dizziness
Headaches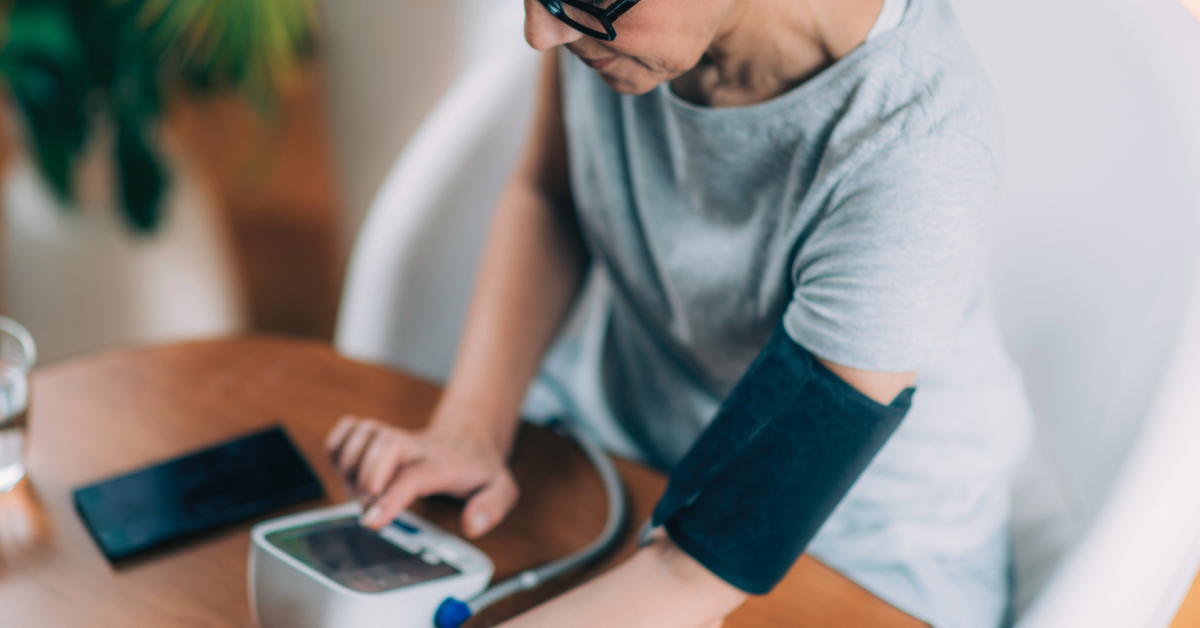 Managing hypertension online
Hypertension is high blood pressure. If you've seen your provider in person and they gave you a hypertension diagnosis, you will need ongoing care management. You can manage your high blood pressure through hybrid care with Amwell. Hybrid care means you see your provider in the office and have periodic check-ins with an Amwell telehealth provider using phone or video calls, as needed, throughout the year. During telehealth visits, you can discuss your blood pressure, get medication refills and ask questions.
First step — See your provider for a high blood pressure diagnosis
Amwell can partner with you and your provider to manage your blood pressure effectively. First, you'll need to see your provider in person to obtain a high blood pressure diagnosis. However, your provider needs to see you in person and use specialized equipment to diagnose hypertension.
(NOTE: Each Amwell provider treats their patients and prescribes medications at their own discretion. Some providers may prefer for you to see your PCP for ongoing chronic care management or encourage you to go to an urgent care clinic for an in-person evaluation.)
Setting up your telehealth visit
Once you have your hypertension diagnosis, you can set up a free account with Amwell and schedule your telehealth visit with one of our trusted providers. To prepare for your telehealth visit, get a copy of your latest blood pressure readings and have it available for the Amwell provider to review. Also, be prepared to tell your telehealth provider about your:
Other medical conditions
Existing prescription medications
Over-the-counter medications
Some medications do not react well with others. It's important to tell your Amwell provider what other medications you are taking to avoid complications.
During your telehealth visit
During your Amwell telehealth visit, your provider may:
Review your blood pressure results
Discuss what might cause the spikes or dips in your blood pressure
Review your current hypertension medicines
Your Amwell telehealth provider may also talk with you about ways to manage your blood pressure more effectively and improve your overall health. These suggestions may include:
Timely medication refills
Lab testing
Periodic eye exams
A more nutritious diet
Regular exercise
An improved sleep schedule
If you need medication changes
Your Amwell provider can offer advice about medication changes and available options. Online prescriptions for hypertension medications are available at your Amwell provider's discretion and according to your state's laws. We offer telehealth services in all 50 states so that you can pick up your prescription anywhere in the country.
Telehealth – An effective, convenient way to manage your blood pressure
Healthcare industry studies have shown that telehealth is a promising tool for helping patients control their blood pressure, particularly those at high risk. In these studies, patients in telehealth programs for hypertension management experienced more significant reductions in their blood pressure than those patients who managed hypertension through usual in-person follow-up.
Have questions about telehealth visits? We'll help.
You'll find answers to many of your questions about how it works and services we offer online. Or please reach out to our support team at We have highly trained health service specialists standing by to take your call, 24/7.

Online Urgent Care
Amwell connects you to board-certified online doctors, 24/7, using your phone, tablet, or computer.
Continue