Get telehealth care for hypothyroidism
Learn about hypothyroidism and how to get online care from board-certified Amwell providers, 24/7, using your phone, tablet, or computer.
Hypothyroidism symptoms can vary, but patients typically experience:
Delayed puberty
Slow growth
Lethargy
Feeling cold
Hair loss
Constipation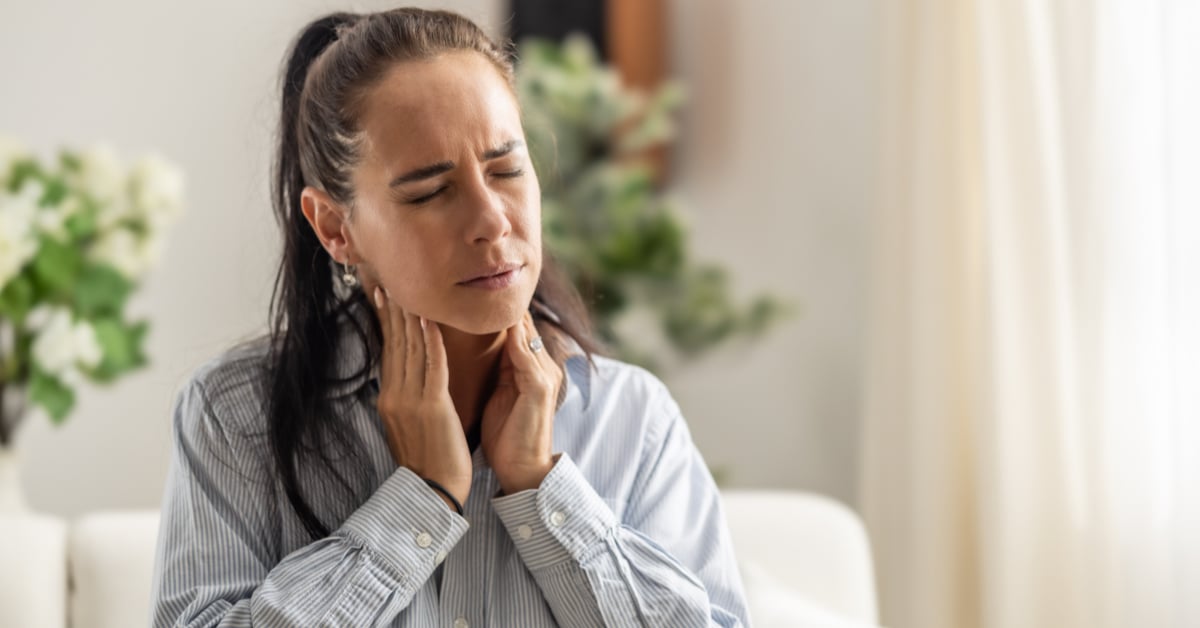 Manage hypothyroidism with telehealth
Hypothyroidism is also known as an underactive thyroid. Your thyroid is a butterfly-shaped gland at the base of your neck. It produces hormones that control the way your body uses energy. Your thyroid also regulates important body functions, such as breathing, heart rate, body temperature and how fast you burn calories. If your thyroid does not produce enough hormones, these body functions slow down.
What causes hypothyroidism?
The most common cause of hypothyroidism is an autoimmune disorder called Hashimoto's thyroiditis. With this condition, the body produces antibodies that attack and destroy the thyroid gland. Other causes include:
Autoimmune diseases
Thyroid surgery
Radiation therapy
Certain medications
How hypothyroidism affects your life and how telehealth can help
Anyone can develop hypothyroidism. Women have an increased risk. Over time, the disease can lead to weight gain, joint pain, infertility, heart disease, and other complications. If you have a diagnosis of hypothyroidism, Amwell telehealth providers can partner with you and your primary care provider to manage your condition effectively and help you live a healthier life.
First step — See your provider for a hypothyroidism diagnosis
First, you'll need to see your primary care provider in person to obtain a hypothyroidism diagnosis. During telehealth visits, Amwell providers will ask about your medical history and what symptoms you're having. However, to diagnose hypothyroidism, you'll need lab tests, and your primary care provider will need to see you in person to use specialized equipment. If you have already been diagnosed with hypothyroidism by your primary care provider, then Amwell providers may be able to refill prescriptions and recommend an ongoing treatment plan.
(NOTE: Each Amwell provider treats their patients and prescribes at their own discretion. Some providers may prefer for you to see your PCP for ongoing chronic care management or encourage you to go to an urgent care clinic for an in-person evaluation.)
Your telehealth visit and treatment plan
Once you have a hypothyroidism diagnosis, your Amwell telehealth provider will talk with you about your treatment options and create a care plan. We base your treatment on your medical history, your lab test results, how long you've had symptoms, and how severe they are.
A nutritious eating plan
Physical activity
Monitoring blood sugar levels
Insulin
Transplantation
Have questions about telehealth visits? We'll help.
You'll find answers to many of your questions about how it works and services we offer online. Or please reach out to our support team at We have highly trained health service specialists standing by to take your call, 24/7.

Online Urgent Care
Amwell connects you to board-certified online doctors, 24/7, using your phone, tablet, or computer.
Continue