Nausea and vomiting
Our Amwell telehealth providers will help you manage short-term nausea and vomiting and offer advice to help you feel better.
Get online care for nausea and vomiting, plus electronically filled prescriptions, from board-certified providers, 24/7, using your phone, tablet, or computer.
If vomiting happens repeatedly or you have severe symptoms, we'll suggest you seek in-person care right away.
Abdominal pain
Fever
Headache
Nausea
Vomiting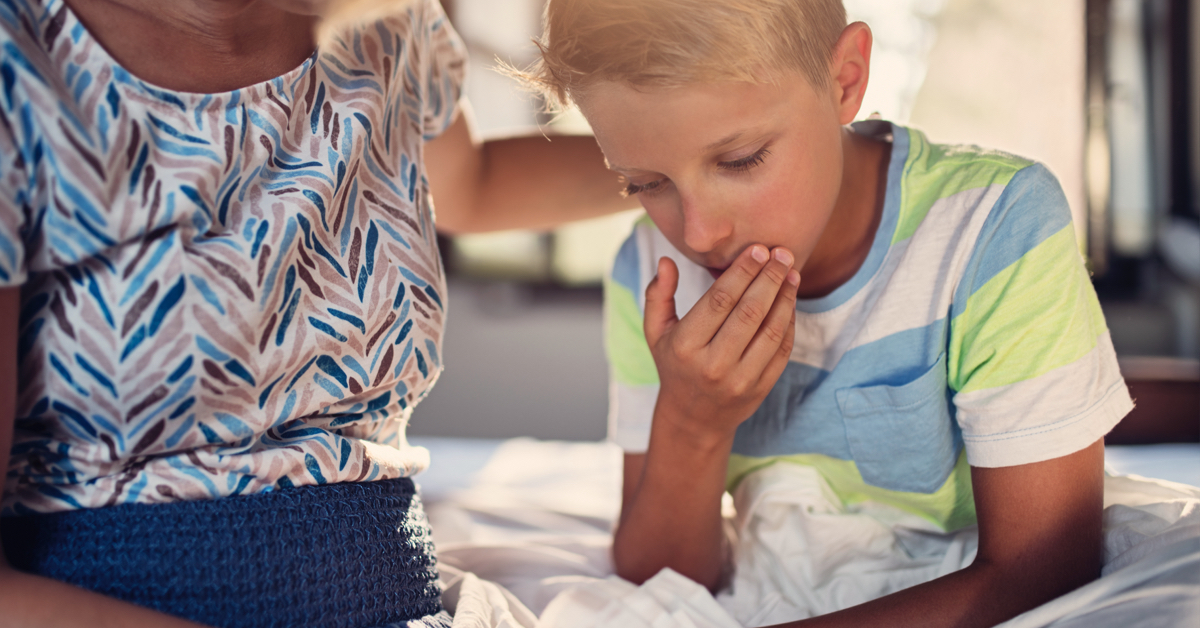 Telehealth visits to treat nausea and vomiting
Nausea is an unpleasant feeling of stomach discomfort that often leads to vomiting. If you have a sudden case of nausea and vomiting, you can schedule an appointment with one of our Amwell telehealth providers. We'll offer advice to help you feel better and manage your illness online.
What to expect during your telehealth visit
During a telehealth visit, your Amwell provider will ask you a series of questions, including:
Do you have other symptoms like abdominal pain, fever, or headaches?
What foods have you eaten recently?
What medications do you take?
Do you have any allergies?
Do you have any chronic illnesses?
Have you been around others who are sick?
Have you traveled recently?
Does the vomiting include blood or have the appearance of coffee grinds? (If yes, your Amwell provider will refer you to in-person care right away.)
Your telehealth provider will also look at your appearance for signs and symptoms of dehydration, such as dry skin and lips and dark circles under the eyes. Sometimes, nausea and vomiting can lead to dehydration.
Your treatment plan for nausea and vomiting
To create a treatment plan, your Amwell provider will consider your symptoms (how severe they are and how long you've had them) and your medical history.
Your provider may suggest the following:
Temporary changes in your diet (bland foods, such as crackers and dry toast, and foods with high water content, such as soup, popsicles, or gelatin)
Over-the-counter anti-nausea and stomach upset medications
Steps to minimize your exposure to others until your symptoms go away
A follow-up plan to see an in-person provider if your symptoms do not improve
Your Amwell provider will talk with you and make sure you understand your treatment plan. You can also get a short-term absence note for your employer or school stating that you are ill.
If your nausea and vomiting are severe
If your symptoms are severe and happen repeatedly, your Amwell telehealth provider may recommend you seek in-person care right away. Urgent cases may include:
Moderate-to-severe nausea and vomiting during pregnancy
Vomiting blood or vomit that looks like coffee grinds
Projectile vomiting from a newborn or baby up to age 3 months
In these situations, you may need an in-depth, in-person evaluation and long-term care.
Have questions about telehealth visits? We'll help.
You'll find answers to many of your questions about how it works and services we offer online. Or please reach out to our support team at We have highly trained health service specialists standing by to take your call, 24/7.

Online Urgent Care
Amwell connects you to board-certified online doctors, 24/7, using your phone, tablet, or computer.
Continue