Are you thinking about having an online therapy visit but you're not quite sure what to expect? We understand many people have questions about online therapy before they have a visit. Here's an overview of what to expect when you meet with a licensed mental health professional on your Amwell app.
What is online therapy?
Online therapy refers to therapy or counseling visits that are conducted online. On the Amwell app, you can see your therapist face-to-face using a smartphone, tablet, or computer. The results are encouraging: In one study, people suffering from depression who received online behavioral therapy were 77% more likely to be able to manage their condition over the long term.
Taking the first step towards an online therapy visit can feel awkward, nerve-wracking, or even slightly intimidating. We are here to support you and guide you through the process.
How do I schedule a visit?
We know you're busy, so we want to make sure you can fit in a therapy visit whenever it's most convenient for you.
To schedule a visit:
Open the

Amwell app

on your smartphone, tablet, or computer. (Not registered? You can

register here. >>

)

Select "Behavioral Health"

Choose your practice type:

Therapy,

Psychiatry

,

Adolescent Therapy

,

Menopause Counseling

,

Pregnancy & Postpartum Therapy

.

Choose a date, time, and the licensed mental health professional that you'd like to meet with. You can click through to see a provider's rating, background, and specialty.

Schedule your appointment!
You'll receive an email before your scheduled visit asking you to check your audio and video connection to make sure you're prepped and ready to go for your appointment. At the day and time of your appointment, we recommend finding a quiet, private place with minimal disruptions. You can tap into the Amwell app, or log in on your computer or tablet to start your visit.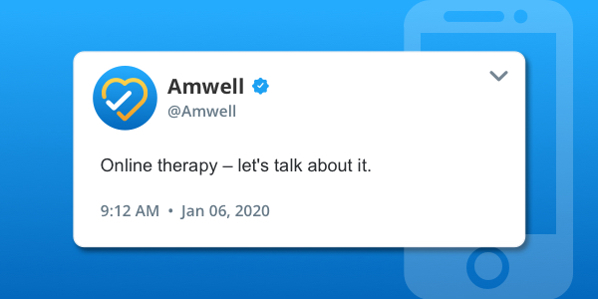 What's an online therapy visit like?
It's up to you! Your online therapy visit is all about you and what you'd like to discuss. You can show up (online!) to your appointment with a specific concern you'd like to talk through or let your provider guide the way. Therapists are here to listen so they can understand your unique situation and identify coping strategies to help you through challenges.
During the 45-minute visit, your therapist may ask you questions to learn more about you and what's happening in your life to better understand your feelings and emotions. They may also ask you about your medical history and about what you'd like to accomplish in therapy. Using all of this, your therapist will come up with personalized care recommendations to share with you at the end of your visit. Your information is both confidential and secure.
Here are common conditions that Amwell's licensed therapists provide care for:
Anxiety

Couples therapy

Depression

Grief and bereavement

Insomnia

LGBTQ counseling

Life transitions

OCD (obsessive-compulsive disorder)

Panic attacks

Social anxiety

Stress management

Trauma and PTSD (post-traumatic stress disorder)
Take a step towards better mental health today! We're here for you and ready to help with whatever you're going through. Let's discuss life's challenges together.
Common questions about online therapy:
Can I get a prescription?
Our therapists do not prescribe medications. That said, you can see a psychiatrist on Amwell if you need help managing ongoing medications. Our psychiatrists and physicians can prescribe most psychiatric medications, and our therapists work in collaboration with them to provide you with multi-disciplinary care.
How long is a therapy visit?
A typical online therapy visit lasts 45 minutes.
Can I have a follow-up visit?
Yes! Follow-up visits are possible. Your therapist can give you a recommended treatment plan based on your situation and goals during your first visit.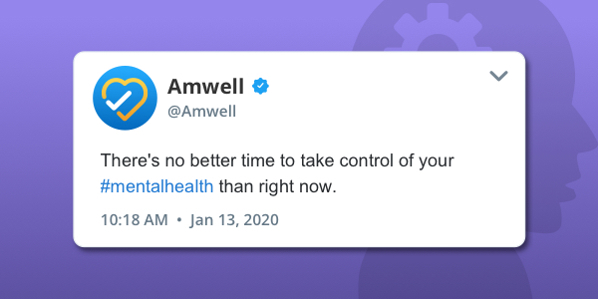 Benefits of online therapy:
It's convenient: Schedule an appointment when it works best for you. Appointments are available on evenings, weekends and holidays!

Have a visit from anywhere: Talk with a therapist through video from wherever you are most comfortable

—

from home or on the go.

Follow-up appointments are available: You can see the same mental health professional again. On average, patients have six visits.

No waiting room: Skip the wait with scheduled appointments from the comfort of home.

Private and secure: The two-way video visit is

private

,

secure

and

HIPAA-compliant

.

Licensed mental health professionals: Amwell's

online therapy services

are available nationwide and include a network of over 350 psychologists, social workers, and mental health professionals in other disciplines and specialties.
Why try Amwell online therapy?
Internet-based therapy was found to have the same effectiveness as face-to-face therapy. Plus, it's convenient! For patients who had therapy sessions on Amwell, the average provider rating is 4.8 out of 5. Also, 96 percent of patients said they were very or extremely satisfied with their therapist.
You've already taken the first step toward better well-being by learning about online therapy. If you're going through something you'd like to discuss with a mental health professional, book a visit today or learn more about the Amwell Online Therapy service here.
Note: Online therapy visits are for non-emergency situations. If you or someone you love is having suicidal thoughts, please call 1-800-273-8255.