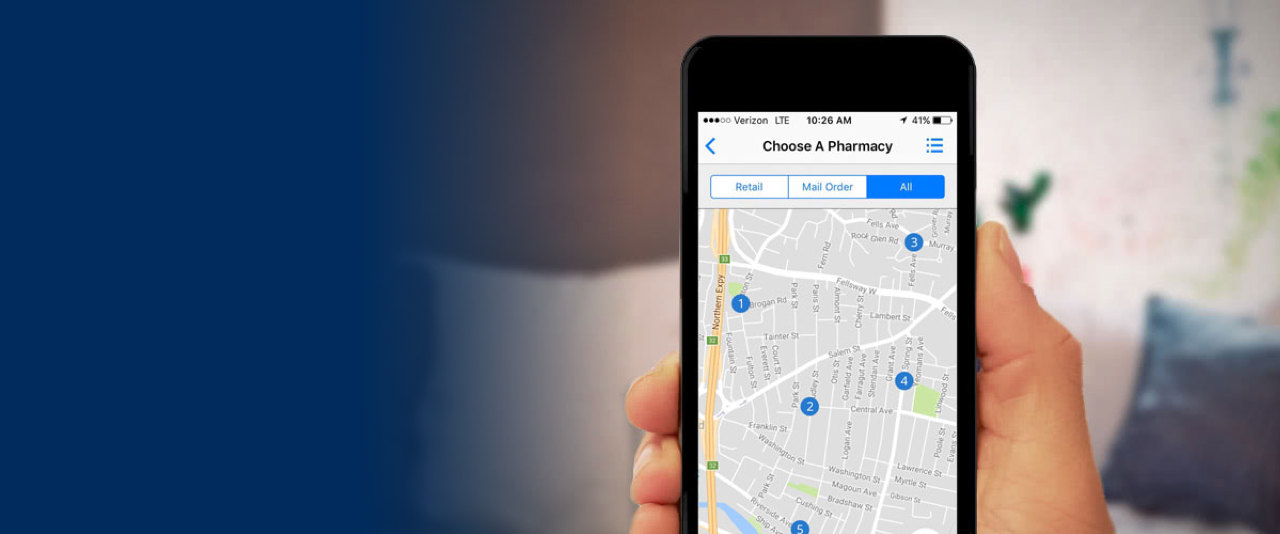 Online prescriptions
How it works
Have questions about online prescriptions with Amwell? Look no further.
Online prescriptions
With Amwell, you can set up your free account and have a visit with trusted providers 24/7. During the course of your visit, your provider may recommend an online prescription. We understand that you may have questions, and you can find answers to many frequently asked questions about online prescriptions in the section below.
Before your visit begins, be sure to tell your telehealth provider about any existing prescriptions or over-the-counter medications you are taking. Some medications do not react well with others, so it's important to be open and honest with your provider to avoid prescription complications.
With telehealth services available in all 50 states, you can have a visit and potentially receive a prescription anywhere across the country. However, please be aware that many medications cannot be prescribed online, including controlled substances.
If you are having a telephonic or phone‑only visit, stricter prescribing regulations will apply. In certain states, a video visit may be required in order to receive a prescription.
If you have additional questions, please reach out to our support team at support@amwell.com or call 877‑410‑5548. We have highly‑trained health service specialists ready to take your call, 24/7.

Download the Amwell app today
Amwell provides immediate online access to board-certified physicians, dietitians, therapists, psychiatrists and more.
Sign in now and talk to a trusted provider today.
Get started
Got questions? We've got answers.
See below for answers to some of our most common questions. You can also call us anytime 24 hours a day at 1‑844‑SEE‑DOCS for questions about our services or to speak to a doctor about your symptoms or conditions.
Yes, in general you can get a prescription online. While there is support for this nationwide, there are several exceptions to be aware of. See the FAQs below to learn more about these exceptions.
The Ryan Haight Online Pharmacy Consumer Protection Act was created in the late 1990's to combat internet pharmacies that were selling controlled substances online. The Act took effect on April 13, 2009 and the Drug Enforcement Agency (DEA) issued regulations effective on the same date. This Act imposed a federal prohibition on form-only online prescribing for controlled substances.
In the practice of telehealth, the child should be present during the visit. The patient's appearance, particularly with children, is critical to differentiate between "sick" and "not sick." Occasionally, the parent may want to talk in private with the physician and likewise, the provider may want to speak to the child without the parent. It is highly recommended that all children are seen using video. However, for those states that do not require video to prescribe, the decision to prescribe in this situation is at the sole discretion of the physician. Additionally, children need to have their own account to have a visit online - they cannot be seen under a parent account.
Regulations regarding the requirement of video as a prerequisite to prescribing versus the use of phone only differs state by state. If you are in a state where prescribing by video is necessary, our providers will ask you to end the call with no charge and call back over video where you can see the same provider. We recommend video consultations when treating children with respiratory conditions, abdominal pain, etc.
Prescribing is at the sole discretion of your physician. Often times, someone will receive a prescription but that medication will be available in multiple forms. If the medication your provider prescribed is not covered by your insurance, then you may be issued a different medication with the same purpose that is covered by insurance.
If you have questions about your prescription, please reach out to our 24/7 support line at customer.support@amwell.com or call 877-410-5548. Keep in mind that you can also review the notes section from your visit in your account on Amwell.
Prescription refills are ordered at the physician's discretion and require an online visit with video. Refill visits require a full medical evaluation. Patients receiving refills online are required to have an annual visit with their primary care physician or more frequently as determined by the online physician.
Arkansas
Colorado
District of Columbia
Hawaii
Illinois
Kansas
Maryland
Michigan
Minnesota
Montana
Nevada
New York
North Dakota
Pennsylvania
South Dakota
Tennessee
Texas
Utah
Washington
Wisconsin
Wyoming
There are hundreds of controlled substances that cannot be prescribed online, these include most muscle relaxants, erectile dysfunction medications, and insomnia medications. Below is a list of commonly requested medications that we are not able to prescribe online:
Adderall
Alprazolam
Ambien
Ativan
Carfentanil
Clonazepam
Cocaine
Codeine
Codoxyn
Concerta
Demerol
Diazepam
Dilaudid
Fentanyl
Fioricet
Focalin
Gabapentin
Hydrocet
Hydrocodone
Klonopin
Lorazepam
Lunesta
Methadone
Methamphetamine
Morphine
Naloxone, Narcan
Nubain
Opium
Opium Tincture
Oxycodone
OxyContin
Percocet
Pseudoephedrine / Ephedrine
Restoril
Ritalin
Soma
Sonata
Temazepam
Testosterone
Tramadol
Valium
Vicodin
Vyvanse
Xanax
You can find a full list of controlled substances here: https://www.DEAdiversion.usdoj.gov/schedules/orangebook/c_cs_alpha.pdf
Once you have received a diagnosis from your online provider, they may talk to you about how online prescriptions work. At the beginning of your visit, you will be guided to pick a pharmacy. If your provider decides to give you a prescription, then your medication will be available at the pharmacy of your choosing and all you have to do is pick it up at your earliest convenience – it's that easy!
Alabama
Arizona
California
Connecticut
Delaware
Florida
Georgia
Idaho
Indiana
Iowa
Kentucky
Louisiana
Maine
Massachusetts
Mississippi
Missouri
Nebraska
New Hampshire
New Jersey
New Mexico
North Carolina
Ohio
Oklahoma
Oregon
Rhode Island
South Carolina
Vermont
Virginia
West Virginia

Now is the time to try telemedicine!
We can help you feel better faster. Register now for access to our online doctors 24 hours a day.
Sign up now