Birth control/ contraception treatment online
Our services
Get advice about contraception with a treatment plan, and where appropriate, electronically filled prescriptions from board-certified physicians 24/7.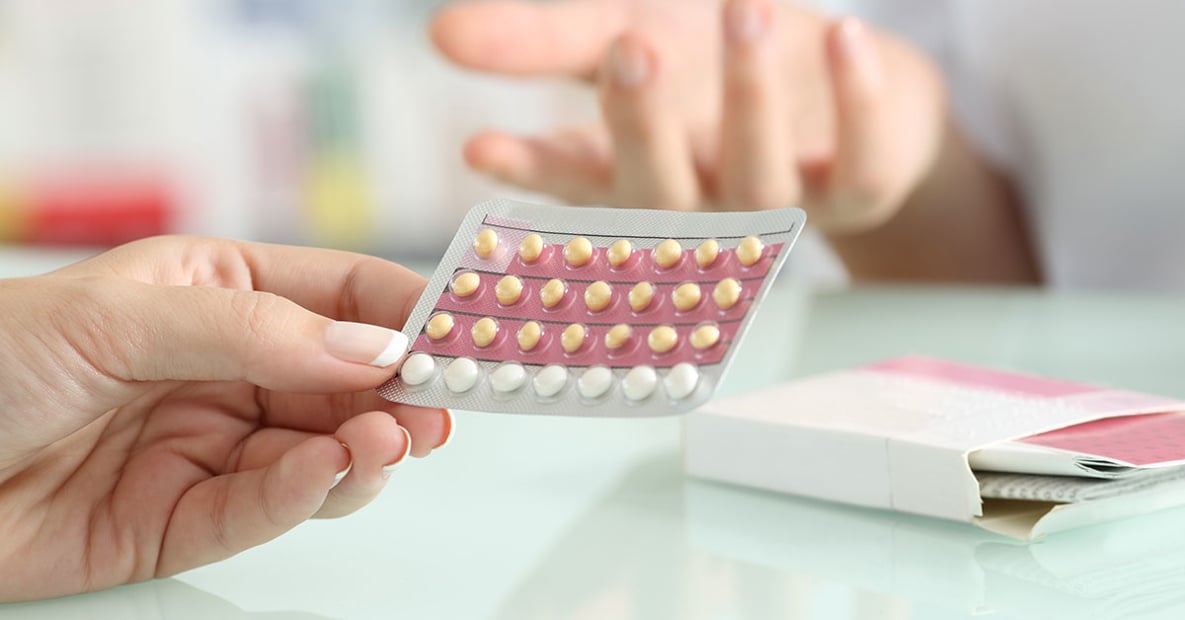 The use of a birth control prescription can vary, but patients typically use it for:
Pregnancy prevention
Polycystic Ovary Syndrome
Endometriosis
Lack of periods
Menstrual cramps
Premenstrual Syndrome
Acne
Birth control advice and management online
Birth control can be used for a variety of reasons, but the most common is to prevent pregnancy.
Depending on your specific needs and symptoms, your treating clinician will recommend the best birth control option for you. There are many forms of birth control, including:
Birth Control Pills
Condoms
The Diaphragm
The Cervical Cap
Intrauterine Device (IUD)
The Contraceptive Implant
Contraceptive Sponge
Spermicide
Contraceptive Injections
The Vaginal Ring
Contraceptive Patch
During a video consult on Amwell, your doctor will ask you a series of specific questions to help determine which option is right for you. If necessary, your provider may recommend an in-person examination by an in-person provider. Your treatment options for any symptoms you're trying to manage are based on the duration and severity of your symptoms and your medical history. Along with this information, your doctor may ask you if you are using other forms of birth control to prevent pregnancy and protect against contracting STIs.
Before your visit, you should have available your most recent vital sign and lab results – such as blood pressure, pap smear, blood sugar, and cholesterol readings – as your overall physical well-being is a factor in the care your physician will provide to you. Also, make sure to tell your telehealth provider about any other medical conditions, existing prescriptions, or over the counter medications you are taking. Some medications do not react well with birth control medications, so it's important to be honest and open with your provider to avoid complications.
Answers to many of your questions are included below. If you don't see your question answered below, please reach out to our support team at support@americanwell.com or call 877-410-5548. We have highly trained health service specialists standing by to take your call, 24/7.
More conditions treated on Amwell
Got questions? We've got answers.
See below for answers to some of our most common questions. You can also call us anytime 24 hours a day at 1‑844‑SEE‑DOCS for questions about our services or to speak to a doctor about your symptoms or conditions.
Yes, it can improve your ability to manage birth control methods and has other advantages as well. In addition to making you more accountable for following your plan for birth control methods, telemedicine also establishes a long-term relationship between you and your physician, which encourages better supervision of your reproductive options, provides you with the most recent methods and treatments, and encourages you to make better choices. The use of telemedicine also helps empower patients to take control not only of their birth control regimen, but also their overall health.
Generally speaking, refills or bridge prescriptions are available from your Amwell physician with an online video visit. In those states that allow it, new prescriptions for non-controlled medications (Birth Control medications usually are not controlled substances) may be prescribed at the discretion of your Amwell physician. The physician will make that determination after conducting your online exam and obtaining information from you such as the timing and results of your last lab tests, and when you last had a physical exam. More information is available in the FAQs on our Prescriptions page that offer further clarification.
When an Amwell physician determines you need a change in medication, but due to either state laws or some other reason he or she prefers not to write a full prescription, the physician may furnish you with a "bridge prescription." A bridge prescription is an order for a limited supply of medication – usually enough for 15 to 30 days – that will cover your needs until you see your primary care physician and receive a physical examination to determine if the medication is right for you and if a longer supply is warranted.
Having your vital signs available provides your Amwell physician with a lot of information that is pertinent to your treatment and has bearing upon his or her decision of whether or not to prescribe birth control and what type of method or medication to prescribe. Having your current vital sign results will make the online session more effective and enable your physician to provide you with all the services he or she can at that time. Examples of vital signs you should provide to your Amwell physician for a visit regarding birth control include your most recent blood pressure and resting heart rate.
Birth control medication is a safe, simple, and convenient way to prevent pregnancy. It also has other benefits like reducing acne, making your periods regular, and easing menstrual cramps. It's effectiveness, however, is predicated upon you taking the medication every day, or you might not be protected from pregnancy. Also, like most medications, birth control pills can have side effects. While most go away after two or three months, you will want to talk with your doctor about finding another brand of pill or another birth control method. It is imperative, however, that you do not stop taking the pill before you start a new method or you'll be at risk of pregnancy.
It isn't about which is better; it's about availability and access. Ideally, everyone would have unlimited access to personalized healthcare, but we do not live in an ideal world. Telemedicine bridges those instances when distance, access, and special needs interfere with the provision of healthcare, preventative measures, and long-term management of birth control measures.

Now is the time to try telemedicine!
We can help you feel better faster. Register now for access to our online doctors 24 hours a day.
Sign up now